The Tasmanian Museum and Art Gallery in Hobart is filled with people waiting for the swift parrot to disappear.
Hobart artist Lucienne Rickard has spent five weeks drawing a large-scale pencil sketch of the critically endangered bird. Picking up her eraser, she tells her audience, "If we don't do something soon, this is what will happen."
The erasure, which took place on Sunday as part of Mona Foma, marked the culmination of Rickard's Extinction Studies. The artist had spent 16 months in TMAG, meticulously drawing an archive of lost species: deer and crayfish, mice and turtles, bats and bilbies. When they were done, she would rub them out.
The lifelike parrot is perched above the ground on its paper canvas: the last animal to go.
Below it lies the remains of all former black-and-white drawings: shavings from 25 erasers, which had removed 187 graphite pencils' worth of art. In a few minutes, this bird will become part of the waste.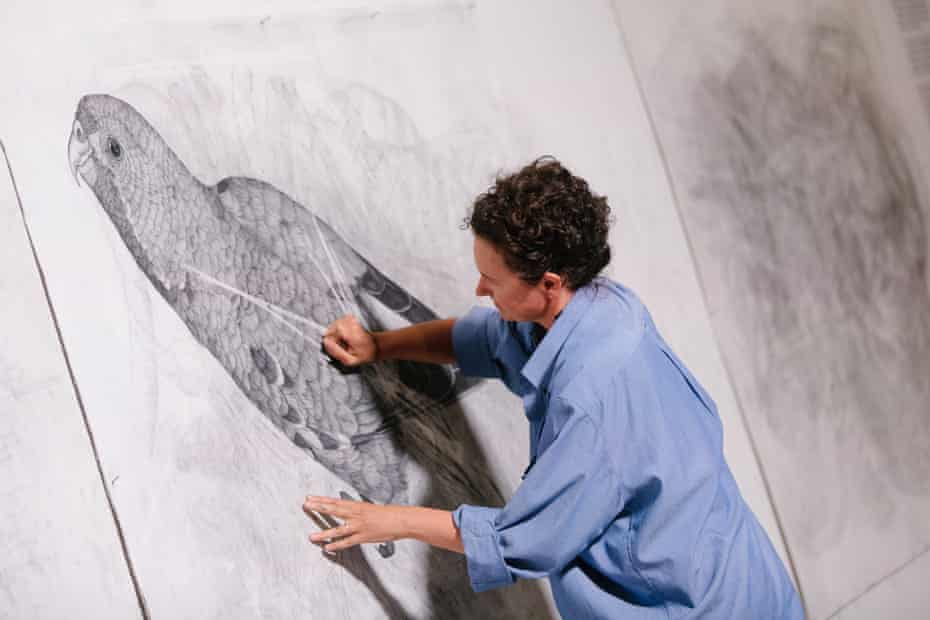 Rickard starts with the swift parrot's feathery tail, wiping it clean from the page with deliberate strokes. The creature begins to vanish. From the silence, someone whispers: "It's like witnessing a funeral."
"We have this idea that extinction is an old problem. In fact, the opposite is true," Rickard tells the Guardian. Throughout the project she has created and destroyed a total of 38 works of art, all depicting flora and fauna from the IUCN Red List of Threatened Species, among them the Yunnan lake newt, the corquin robber frog and the big-eared hopping mouse.
Rickard's drawings are realistic, detailed, archival – exactly the style a visitor might expect to find in a museum. Keeping her art accessible became a "hook" to draw people into her world.