An increasing number of people are being threatened by flooding caused by glacial lakes bursting, scientists have warned.
As the planet warms and glaciers recede, meltwater accumulates and forms lakes, often as a result of ice or moraine acting as a dam. Since 1990, the volume, area and number of these glacial lakes has increased by 50% globally. When these lakes become too full there is a risk that they may breach or overflow, releasing huge volumes of water and causing catastrophic flooding.
Some lakes are more dangerous than others, and more likely to result in what are known as glacial lake outburst floods (GLOFs). Stephan Harrison, a professor of climate and environmental change at Exeter University, said: "The ones we're concerned about are the very steep mountain valleys in the Andes and in the Himalayas, where you have glaciers retreating up into their steep valleys with lots of opportunity for bits of mountainside to fall off into lakes."
The correlation between rising temperatures and glacial lake outburst floods is complicated. While glacial lake formation and growth can be attributed to anthropogenic climate change, the triggers that can cause disastrous flooding are often down to non-climatic factors such as moraine dam geometry, earthquakes, ice or rock avalanches into the lake or extreme rainfall.
Adam Emmer, a geographer at the University of Graz in Austria, said: "You need two conditions to generate a disaster – high magnitude GLOF, and exposed population as well as assets in its path. Population expansion along the potential GLOF paths and lack of building development regulations may be even more important driver of GLOF risk, especially in developing countries."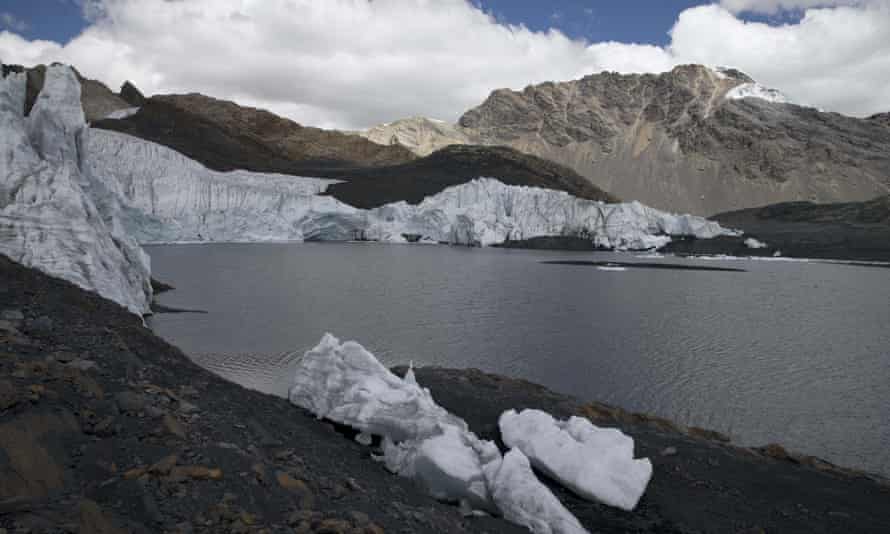 One of the parameters that makes a glacial lake potentially dangerous is the size of downstream population that could be exposed to flooding, and that number can range from few hundreds to hundreds of thousands, as in the case of Huaraz city located downstream of Lake Palcacocha in Peru. However, the many factors at play in an outburst flood make it impossible to estimate how many people might be at risk globally.
A 2016 study found there have been at least 1,348 recorded glacial lake outburst floods so far worldwide, of which 24% had some societal impact.
More than 12,000 deaths have been attributed to such floods. Central Asia was the most affected region, followed by South America, then the European Alps, Iceland, Scandinavia, north-west America and Greenland. The authors identify South America and central Asia as the regions most likely to experience large numbers of deaths, extreme damage to infrastructure, flooding of farmlands and the destruction of homes and roads.
Of the world's tropical glaciers, 70% are situated in Peruvian Andes, and they are melting rapidly, which has led to several glacial disasters over recent decades. The worst so far was the 1941 glacial lake outburst flood from Lake Palcacocha, which claimed at least 1,800 lives.