Cindy Stevens traces her family line back to the early pioneer days on Western Australia's wheatbelt. Now she and her husband, Simon Wallwork, are pioneers of a different kind: in adapting to climate change.
"The change in Liberal leader [to Scott Morrison] was probably a major tipping point for us, because we could see there was going to be no leadership from the government on a federal level," she says at her farm near Corrigin, 230km east of Perth.
"We could see that something had to be done," she says.
The couple – who met studying agricultural science at university – raise cattle, sheep and grow barley, canola, wheat and lupins on their 3,700 hectare property Julcintra.
They say they felt frustrated by the "suppressed" climate change conversations in the conservative rural areas, and the lack of political leadership, as the need to act becomes more urgent.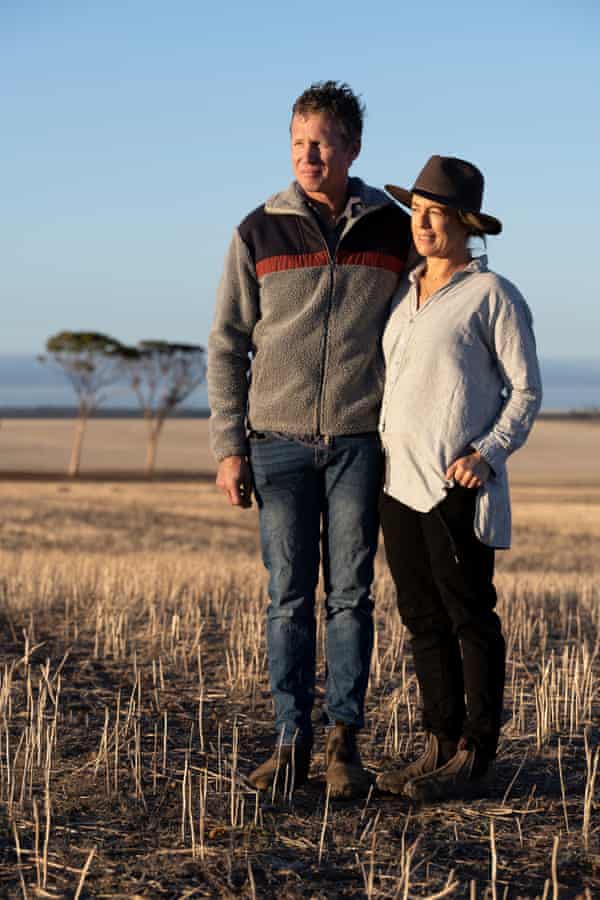 "We're living and breathing climate change now … we've lost at least 20% of our growing season rainfall and, ironically, we're having more severe frost events," Simon says, reflecting trends seen across the wheatbelt. "Our temperatures have risen by about 1.2 degrees."
And so what began as a callout on social media has developed into AgZero2030: a movement of WA farmers eager to influence climate action and to lead by example by making their own properties carbon neutral within the decade.
"The 2030 target is really about trying to limit warming to 1.5 degrees … the consensus was that 2050 is too far away," says Simon, who chairs AgZero2030. "I think we won't be far off. And tree planting is the easiest way of getting there."
The AgZero2030 movement is starting small, with about 30 volunteers and 800 subscribers on social media. But its affiliation with Farmers for Climate Action– a wider, national movement of farmers, graziers and agriculturalists founded in 2016 – brings it a network of more than 5,000 members.
Other agricultural groups are joining in too: the major agricultural lobby group the National Farmers' Federation adopted a zero 2050 target last year. Meat and Livestock Australia is aiming for 2030.
Adaptation